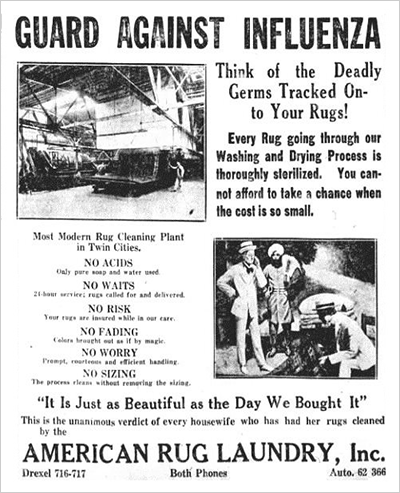 An October 1918 ad claiming that cleaning rugs would guard from influenza. (Image courtesy of the MN Historical Society.)
When I was growing up, my grandmother loved to say, "cleanliness is next to godliness," while cheerfully scrubbing the floor on her hands and knees. Raising her children through the 1918 pandemic and the Great Depression years, Grandma believed one of the best ways to keep a family healthy was to keep everything – and everyone – clean. 
Now about 100 years later, in the midst of a global pandemic, I don't leave home until I'm sure I have my wallet, keys, hand sanitizer, and face mask, and I frequent stores that take health and safety precautions, too.  I'm not alone in this. Neighbors and friends have shifted their shopping based on the cleaning practices of stores, too, and we've compared notes on which places we feel most comfortable. That's because, when it comes to protecting health and well-being, there is no compromise.
Healthcare clinics and hospitals have long known this and, as a result, they require materials that meet or exceed the highest standards for hygiene and cleanliness. They know, like Grandma did, that there's a link between cleanliness and health.
In the past, this priority for cleanable surfaces has caused healthcare environments to be sterile, uninviting, and loud, because tile floors and hard surfaces amplify noise and reflect harsh fluorescent light. Though a controlled acoustic environment is known to promote positive health outcomes, cleanable surfaces were the necessary priority.
In more recent years, new breakthroughs in acoustic materials have opened up fresh possibilities for cleanable acoustic surfaces. You no longer need to choose between clean and quiet. The latest sound-absorbing and sound-blocking materials are felt-free and wipeable for easy cleaning.
A Better Acoustic Solution
I grew up in the 80's, when colorful felt acoustic panels were common. I remember the gross fascination I had with patting an acoustic wall panel at a museum and seeing puffs of dirt and dust fly off. Or looking up at the felt baffles common during that time and seeing a thick, gray layer of grime across their surface. That dust was the result of the material disintegrating and collecting dirt over time.
That's one of the big drawbacks of felt and fabric-wrapped acoustic materials – they aren't able to be wiped clean and they deteriorate over time. In addition, their porous surface can harbor bacteria, fungi, and viruses. Because of this, felt and fabric materials aren't recommended for settings where hygienic, clean surfaces are needed.
But there is a great acoustic solution approved for healthcare use. SoundPly is an award-winning micro-perforated product with a sound-absorbing acoustic core. It's smooth surface allows for easy cleaning and its durable finish doesn't disintegrate. SoundPly's LR series is known for its excellent antimicrobial and anti-fungal properties, testing an average of 10/10 for resistance to mold growth [ASTM-D3273]. It's trusted in some of the most prestigious hospitals and clinics in the country including the Mayo Clinic, Nemours Children's Hospital, Cedars Sinai, Sloan Kettering, and UCSD's Senior Emergency Care Unit. 
SoundPly also achieves top acoustic performance, helping patients hear their providers more clearly, rest comfortably, and experience privacy. Even more, it's available in warm, genuine wood finishes, providing a natural, inviting appearance that helps patients feel more relaxed and at home. 
For a closer look at SoundPly's recent applications in healthcare settings, check out our gallery below or visit our full project gallery.