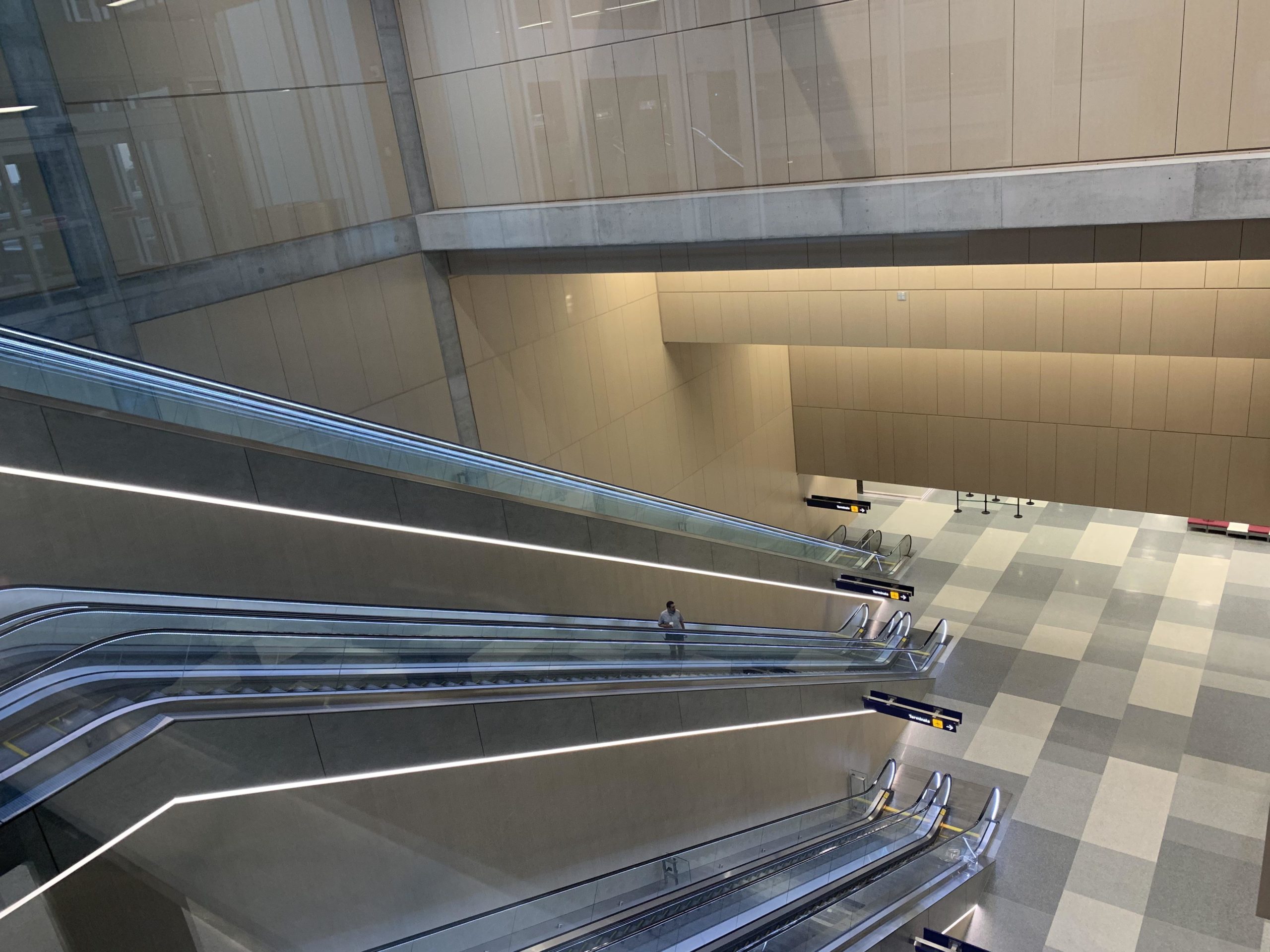 For the past four years, travelers have ranked the Minneapolis-St. Paul International Airport (MSP) as the best large airport in North America. This recognition from the Airports Council International comes as the result of customer satisfaction surveys carried out in 91 countries.
At 118 feet in length, MSP's escalator is the largest in Minnesota, taking 1 minute and 15 seconds to ride.
"It is gratifying that year after year travelers rate Minneapolis-St. Paul International higher than any other airport of its size in North America and among the very best in the world," said Brian Ryks, CEO of the Metropolitan Airports Commission (MAC).  "At the end of the day, MSP stands out because of the 21,000 people who work there, (who) take pride in their airport and provide the high quality experience travelers want."
MSP is now expanding its award-winning consideration of the traveler's journey to include a segment that's often overlooked—the experience from the main terminal to transit and parking. MSP's new transit center and 5,000 space parking ramp goes beyond simply alleviating parking constraints. Architects and designers also saw an opportunity to think beyond the minimum requirements and maximize the possibilities.
Standing 5 stories tall and 55 feet high, the escalator is a whopping six giraffes high!
Key to improving the traveler's experience was quieting the commotion produced by thousands of daily visitors. To that end, micro-perforated White Oak wood SoundPly panels line the walls, ceiling, and soffits surrounding the building's new, 55 foot high escalator – a circulation area where reverberation magnifies sound. The panels absorb excessive noise through barely perceptible micro-perforations and into a sound blocking core. Because their surface is smooth and wipeable, it's a great choice even in a heavily trafficked area.
With detailed plans that take into account every step along the traveler's path, the Minneapolis/St. Paul airport will continue to standout in national and global airport excellence for customer satisfaction for many years to come.
Project Information
Client
Architect
Construction
Product